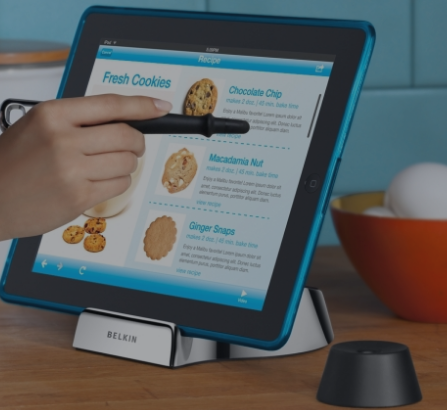 Cook in the Kitchen With Your iPad Who needs a cookbook these days when there is cool technology like the Apple iPad and similar tablets. These devices allow you to look up recipes on popular websites or even download cookbooks wirelessly. However, iPads and other like tablets are not exactly built for the kitchen. Here are five cool accessories to turn your iPad into your new best friend in the kitchen.
iPad Chef Sleeves: Even if you are a master chef, there is always a chance of making a mess or having an accidental spill. Protect your iPad with these clever chef sleeved from ThinkGeek.com. For less than $23, you get a pack of 25 reusable sleeves. These sleeves keep the device protected but still allow you to maintain touchscreen ability.
Belkin iPad Stands: Belkin is known for their digital device stands. They took the average iPad stand and turned it into the perfect kitchen companion. Their three stands are ideal for cooking without putting your iPad in jeopardy. First, there is the Chef Stand with Stylus, which mimics a cookbook stand. You can easily view the recipe or food video. If your fingers are dirty, the stylus will help you scroll down. Belkin also designed a mount for the kitchen cabinets and the refrigerator. This helps keep your kitchen counter free. Now you can view recipes or watch TV while cooking up a storm or washing dishes.
Joseph Joseph CookBook Compact Folding Bookstand: This stand is similar to the Belkin Chef Stand with Stylus, except that this Joseph Joseph stand can hold an iPad or a cookbook. It is also compact and folds away when not in use. This is perfect for the chef that likes to cook with the iPad but still has some cookbook favorites.
With the world wide web, anyone can become a better cook. These fun iPad gadgets make cooking more fun while protecting your tablet in the kitchen.