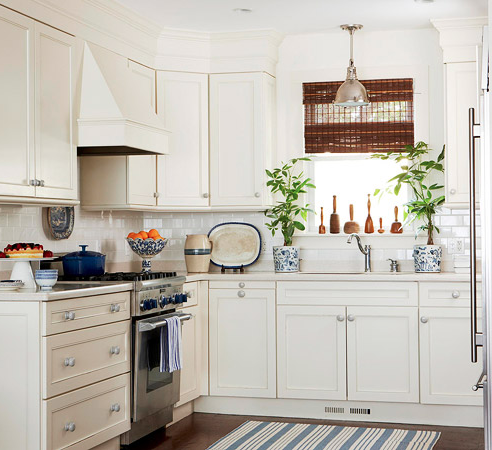 Wouldn't life be so much easier with a large kitchen? While a larger kitchen may seem like a dream come true for many, the reality is that not much can be done for apartment/condo-sized kitchens or small homes with even smaller kitchens. Don't let the size of your kitchen get you down. Instead, follow these simple tips to make your kitchen seem bigger than it really is.
Invest in Multitasking Appliances: You can limit how much space your appliances take up if you choose appliances that can do multiple jobs. For example, a conventional oven can do the job of a toaster, oven, broiler, and microwave. A rice cooker can also work as a steamer and a slow cooker. Purchase smaller appliances to make better use of the kitchen space too.
Go White: The color white can be a small kitchen's best friend. This is because white reflects the color white making the space appear larger than it really is. It works like an optical allusion. Don't just think about the kitchen walls when it comes to color, though. White cabinets and countertops will definitely make your space look bigger and cleaner, as well. Along with using the color white to your advantage, allow more natural light into the space too.
Decorate with Smaller Furniture: When you are limited on kitchen space, don't buy a huge table and chair set. Choose compact styles of tables, chairs, and barstools that take up less room while still doing their job.
Choose Sleek Appliances: Stainless steel appliances give any kitchen a modern look, and they also give the image of a larger space. This is because sleek surfaces act like the color white, meaning they reflect light. It is the same concept of adding a mirror to a room to make it seem larger.
Your kitchen is an important room in your home, no matter what size it is. Make it feel larger and more welcoming so you can enjoy cooking and eating again.